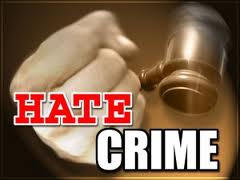 A hate crime is a crime against a person or group that is motivated by the victim's racial, religious, ethnic or gender group. For a criminal act to be a hate crime, it must meet any of the following criteria:
During the crime, racial, religious or ethnic statements are made
Hate group symbols are displayed
Motivation for the crime is to intimidate, harm or injure a particular group or organization
The victim perceives it to be a hate crime

Federal law covers hate crimes under civil rights statutes and provides for more severe sentencing on convictions if the defendant selected the victim because of:

Race
Color
Religion
National origin
Ethnicity
Gender
Disability
Sexual orientation

In Maryland, it is against the law to:

Vandalize any religious property
Interfere by force or threat with anyone's exercise of their religious beliefs
Damage or destroy anyone's property because of their race or beliefs
Harass or commit a crime against any person because of their race, color, religious beliefs or national origin

And the state of Maryland, like the federal government, includes more severe sentencing when a person is convicted of a hate crime.

When you need a strong defense, contact a Howard County criminal defense attorney

The very nature of a hate crime arouses enormous public outrage and media speculation. Unfortunately for the defendant in a hate crimes case, the negative publicity and public opinion can make it difficult to receive a fair trial. Merely being accused of such a crime can ruin your reputation, endanger your job and even splinter your family. And the need for an experienced Maryland criminal defense attorney is vital.

If you have been accused of a hate crime contact Jonathan Scott Smith online or call 410-740-0101 to discuss your case with an attorney who fight aggressively for you.