Defendant Put Out Contract in Drug-Related Matter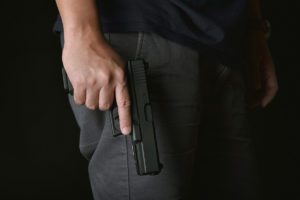 A 36-year-old Maryland man has been convicted in federal court of a number of crimes, including murder-for-hire, related to the deaths of three people in rural Pennsylvania in 2016. Kevin Coles, a native of Hagerstown, is alleged to have put out a contract on his girlfriend, Wendy Chaney, after he learned that she was cooperating with federal authorities in a criminal investigation into a drug distribution operation he ran. Authorities say that Coles worked through intermediaries to recruit and hire members of the Baltimore gang known as the "Guerilla Family," who traveled to a barn in rural Pennsylvania, where they found Chaney, zip-tied her hands behind her back and shot her in the head. Two others, who happened to be at the farm when the killers found Chaney, were also killed.
AV-Rated Maryland Criminal Defense Lawyer
Attorney Jonathan Scott Smith has more than 30 years of experience successfully protecting the rights of DWI/DUI defendants across the Baltimore metro area and the state of Maryland. He has been awarded an AV-rating (the highest rating possible) under Martindale-Hubbell's Peer Review Rating System by fellow members of the Maryland bar for more than 34 years. He has been listed among the top 100 lawyers in Maryland listed by SuperLawyers as well as a Top-Rated Lawyer by The American Lawyer Magazine. He has also earned Martindale-Hubbell's Client Distinction Award, awarded to less than 4% of all attorneys listed in Martindale-Hubbell's directory.
Over the past 30+ years, attorney Smith has successfully handled the defense of a wide range of criminal charges, including cases involving prosecution for violent crimes. He will aggressively protect your constitutional rights and fully investigate your case to determine whether police and prosecutors follow proper procedures when gathering evidence. He'll carefully interview all potential witnesses, so that he can prepare and present the most compelling arguments in your defense at trial.
Attorney Smith has been listed among the top 100 attorneys in Maryland by the National Trial Lawyers Association, a "by invitation only" professional organization. He holds a 10.0 (Superb) rating as a trial attorney from AVVO, as well as AVVO's Client's Choice Award, with an average client review of 5 stars.
Effective Maryland Criminal Attorney
Contact our office by e-mail or call 410-740-0101 for an appointment. We represent criminal defendants in Carroll County, Frederick County, Howard County, Baltimore County, Prince George's County and Montgomery County in Maryland.