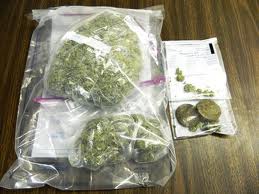 Maryland State Police, in conjunction with the Queen Anne's County Drug Task Force and the Kent County Narcotics Task Force, busted a marijuana cultivation operation in August that led to the seizure of plants with an estimated street value of nearly one and a half million dollars. The 15-acre property, located near Chesterville Bridge Road in Chesterville and Kent, has apparently been abandoned for a number of years. The owners, who live in Delaware, are reported to visit the property only occasionally and are not suspected of being involved in the operation.
Law enforcement officials say they became suspicious of illegal drug activity there and conducted surveillance for several days, but did not observe any activity on the property or any traffic in or out of the property. In late August, after obtaining a search warrant, officers went into the home, which had been covered with plywood. Inside, they discovered a seedling area, where marijuana plants were started before transfer outside. They also found processed marijuana, large plastic bags, a heat sealer and some personal items belonging to one of the suspects.
Outside, officers found more than 714 adult marijuana plants, some nearly 10 feet tall. The plots all had irrigation and fertilization systems in place. A pit bull was chained near the entrance to the fields. The dog has since been adopted.
Highly Respected Criminal Defense Attorney in the Baltimore Area
Jonathan Scott Smith has protected the rights of criminal defendants throughout Maryland for more than 30 years. Because of his record and reputation for effective representation, he has been awarded the Client's Choice Award from AVVO, based on an average client review of 5 stars (the highest rating possible). A Maryland Super Lawyer, Smith has a perfect 10.0 Superb rating as a litigation attorney from AVVO, and has also built an outstanding reputation with his colleagues in the legal profession, earning an AV-rating under Martindale-Hubbell's Peer Review Rating System. Smith was also recognized as a 2013 Top Rated Lawyer by The American Lawyer Magazine and Martindale-Hubbell.
Ellicott City Criminal Defense Lawyer
For aggressive defense in a criminal matter, contact us by e-mail or call us at 410-740-0101 to schedule an appointment. We represent criminal defendants in Howard County, Baltimore County, Carroll County, Frederick County, Prince Georges County and Montgomery County in Maryland.
http://www.wbaltv.com/news/marijuana-worth-145m-seized-in-kent-county/35795266