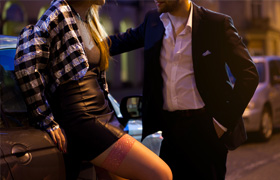 Howard County law enforcement officers conducted a sting at a hotel in Jessup last month, leading to the arrest of 13 men, all charged with prostitution-related offenses. A spokesperson said the sting involved the placement of a fake ad on the website Backpage, which is a popular website for men seeking prostitutes. As men called in, they were allowed to talk to undercover female officers, who arranged a meeting at the hotel. When the men arrived at the room, they were placed under arrest.
According to police, it's part of an ongoing program designed to end human trafficking in Howard County. A similar undercover effort nabbed eight men at a hotel in North Laurel in early February.
AV-Rated Columbia and Ellicott City, MD, Criminal Defense Lawyer
Jonathan Scott Smith, a Maryland Super Lawyer, has fought for the rights of criminal defendants in Maryland for more than 30 years. Because of his record and reputation for effective representation, he has been awarded the Client's Choice Award from AVVO, based on an average client review of 5 stars (the highest rating possible). He has a perfect 10.0 Superb rating as a litigation attorney from AVVO, and has also built an outstanding reputation with his colleagues in the legal profession, earning an AV-rating under Martindale-Hubbell's Peer Review Rating System. Smith was also recognized as a 2012 Top Rated Lawyer by The American Lawyer Magazine and Martindale-Hubbell.
Criminal Defense Attorney in Baltimore County, Maryland
At the law office of Jonathan Scott Smith, we aggressively defend people charged with any crime. Contact us by e-mail or call us at 410-740-0101 to schedule an appointment. We represent criminal defendants in Howard County, Baltimore County, Carroll County, Frederick County, Prince Georges County and Montgomery County in Maryland.