What Constitutes Possession | The Treatment of Marijuana Under Maryland Law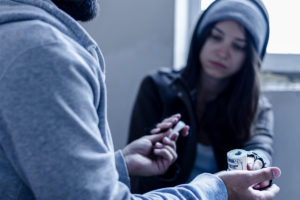 Though Maryland has "decriminalized" the possession of marijuana, the state still takes a strong stance against the possession of so-called "hard drugs," such as heroin and methamphetamines. Possession of small amounts of marijuana (less than 10 grams) is now a civil offense, rather than a criminal offense, and is treated much like a moving violation. The possession of other illegal drugs, however, can result in significant fines and incarceration.
The Definition of Possession
In Maryland, a person may not "possess or administer" a controlled dangerous substance unless it has been secured with a prescription or from an authorized provider. Maryland law also specifically criminalizes procuring drugs through fraud, deceit, or misrepresentation. The possession of any controlled substances (other than marijuana) is considered a misdemeanor in Maryland, with a potential penalty of up to four years and fines up to $25,000. Possession of excessive amounts also can lead to a charge of possession with intent to distribute, which can carry significantly harsher penalties.
Experienced Baltimore Criminal Defense Lawyer
Attorney Jonathan Scott Smith has provided aggressive advocacy to people in Baltimore County and across Maryland for nearly four decades, including individualsfacing prosecution for drug offenses. Named a Top-Rated Lawyer by The American Lawyer magazine, he is also respected by his peers in the legal profession, who have consistently given him an AV-rating, the highest rating possible. He has been the recipient of AVVO's prestigious Client's Choice Award, with an average of 5 stars(the highest rating possible) in his client reviews. A longtime Maryland SuperLawyer, he also has a perfect 10.0 (Superb) rating as a litigator from AVVO.
Attorney Smith fights for men and women facing criminal prosecution, zealously representing clients throughout the legal process, from investigation, arrest, and arraignment to trial. He'll conduct a thorough investigation of your case, ensuring that law enforcement officers legally obtained all evidence, and that you were madeaware of your constitutional rights. An effective trial attorney, he knows how to make compelling arguments in your defense before a judge and jury.
Maryland Criminal Defense Attorney
If you have suffered needless injury in Maryland because of the wrongful acts of another person, Jonathan Scott Smith can help. Send us an e-mail or call our offices at 410-740-0101 to schedule an appointment. There's no cost for your first consultation. We represent injured people in Howard County, Baltimore County, Carroll County, Frederick County, Prince George's County, and Montgomery County in Maryland