What Parties May Be Eligible for Protection from the Court?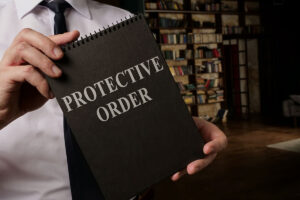 In Maryland, when you have been the victim of certain types of abuse or violence, you can ask the court to issue a protective order, preventing the person who committed the wrongful act from have certain types of contact with or proximity to you. You must, however, be in one of the following relationships with the perpetrator of the violence or abuse in order to qualify for a protective order. Those categories include:
The current or former spouse of the respondent (person against whom the order is sought)
A person related by marriage, blood or adoption to the respondent, including a parent, child, stepparent, stepchild or adopted child of the perpetrator
A person who lives with the respondent
A person who has had a child in common with the respondent
A person who has had a sexual liaison or relationship with the respondent within the last 12 months
The victim of a sexual offense perpetrated by the respondent within the last 6 months
A vulnerable adult who has been the victim of abuse or violence by the respondent
Experienced Prince George's County Criminal Defense Attorney
Attorney Jonathan Scott Smith brings more than 40 years of experience to criminal defendants throughout the Baltimore County area and across the state of Maryland. For more than 30 years, he has been consistently received an AV-rating (the highest rating possible) under Martindale-Hubbell's Peer Review Rating System from his colleagues in the Maryland bar. He has been listed among the top 100 lawyers in Maryland listed by SuperLawyers and was designated a Top-Rated Lawyer by The American Lawyer Magazine. He has been the recipient of Martindale-Hubbell's Client Distinction Award, an honor bestowed upon less than 4% of all lawyers nationwide.
Throughout his years in practice, attorney Smith has successfully protected the rights of individuals facing all types of criminal charges. He will zealously protect your constitutional rights, taking the time to carefully investigate your case and confirm that law enforcement officers and prosecutors follow proper procedures when gathering evidence. He'll interview all key witnesses and preserve all relevant evidence, so that he can prepare and present the most compelling arguments for your acquittal.
Attorney Smith has been listed among the top 100 attorneys in Maryland by the National Trial Lawyers Association, a "by invitation only" professional organization. He holds a 10.0 (Superb) rating as a trial attorney from AVVO, as well as AVVO's Client's Choice Award, with an average client review of 5 stars.
Proven Maryland Drug Crimes Defense Lawyer
Contact our office by e-mail or call 410-740-0101 for a free initial consultation. We represent criminal defendants in Carroll County, Frederick County, Howard County, Baltimore County, Prince George's County and Montgomery County in Maryland.