How It Works | How It Affects Your Driving Privileges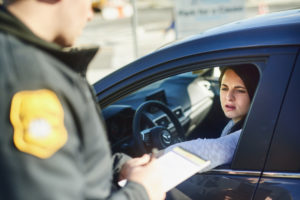 In Maryland, when you have been convicted of certain moving violations, you will have points added to your driving record. The number of points added to your record will typically be determined by the Maryland Motor Vehicle Association (MVA), and not by the judge. The maximum number of points you can receive for any ticket is 5 (for traveling more than 30 miles over the posted speed limit).
The state of Maryland keeps track of all points accumulated on your record. Any points you receive will stay on your record for a period of two years. If you accumulate three points at any given time, the MVA will send you a warning letter. If you accumulate 5 or more points, you will be required to enroll and complete a driver improvement program (DIP). Your license will be suspended if you amass eight or more points at one time, and your license will be revoked for an accumulation of 12 points.
Proven Maryland Traffic Violations Lawyer
For over three decades, attorney Jonathan Scott Smith has aggressively protected the rights of criminal defendants throughout Baltimore County and across the state of Maryland, including individuals charged with moving violations. SuperLawyers names him as one of the top 100 lawyers in Maryland and The American Lawyer Magazine has honored him as a Top-Rated Lawyer. The National Trial Lawyers Association, a "by invitation only" organization, has also included him in the top 100 attorneys in Maryland.
Jonathan has earned an AV-rating (the highest possible) under Martindale-Hubbell's Peer Review Rating System every year since 1988, and has also received Martindale-Hubbell's Client Distinction Award, an award given to less than 4% of all attorneys listed there. He has earned the Client's Choice Award from AVVO, with an average client review of 5 stars, and also carries a 10.0 (Superb rating) as a trial lawyer from AVVO and.
A proven trial attorney, Jonathan has long been known and respected by his colleagues and his clients for his extensive knowledge of criminal law and procedure, as well as his skill and experience in criminal defense. He knows how to effectively gather and preserve evidence, and can quickly determine when your constitutional rights have been violated in a search, seizure or arrest.
Experienced Criminal Defense Attorney in the Metro Baltimore Area
At the law offices of Jonathan Scott Smith, we fight for the rights of criminal defendants throughout Baltimore County and the surrounding communities. Contact us online or call 410-740-0101 to arrange a meeting. We handle cases throughout Anne Arundel County, Carroll County, Frederick County, Howard County, Baltimore County, Prince George's County and Montgomery County in Maryland.