What Is Permitted and Prohibited by Maryland's New Cannabis Law?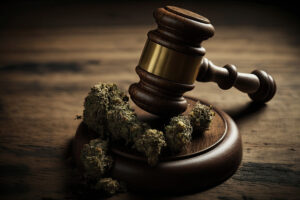 In 2022, voters in Maryland passed a referendum to allow the adult use of marijuana in the state. The Maryland General Assembly enacted a statute to govern use, sale and taxation of cannabis and the governor signed the bill into law, with adult use becoming legal effective July 1, 2023. What does the new law allow? What is still illegal in Maryland?
The New Marijuana Law—The Basics
In Maryland, it is now legal for persons aged 21 or older to have in their possession up to 1.5 ounces of marijuana flower, 12 grams of concentrated cannabis or combined cannabis products with no more than 75 grams of THC. Provided you don't exceed these amounts in your personal possession, any cannabis will be considered "for personal use." Individuals may not sell cannabis without the proper state license. Furthermore, the personal use of marijuana may not take place in any type of motor vehicle or in any public place, including bars, restaurants, parks, streets and sidewalks. The legalization of marijuana in Maryland does not make its use legal on federal property.
Minors (persons under the age of 21) may not possess cannabis for personal use, but may still obtain medical marijuana. Minors convicted of possessing up to 2.5 ounces of recreational marijuana will typically face fines or be ordered to treatment or educational programming for substance abuse. Possession of more than 2.5 ounces can lead to criminal sanctions.
Proven Prince George's County Drug Crimes Lawyer
Attorney Jonathan Scott Smith brings more than 40 years of experience to criminal defendants throughout the Baltimore County area and across the state of Maryland. For more than 30 years, he has been consistently received an AV-rating (the highest rating possible) under Martindale-Hubbell's Peer Review Rating System from his colleagues in the Maryland bar. He has been listed among the top 100 lawyers in Maryland listed by SuperLawyers and was designated a Top-Rated Lawyer by The American Lawyer Magazine. He has been the recipient of Martindale-Hubbell's Client Distinction Award, an honor bestowed upon less than 4% of all lawyers nationwide.
Throughout his years in practice, attorney Smith has successfully protected the rights of individuals facing all types of criminal charges. He will zealously protect your constitutional rights, taking the time to carefully investigate your case and confirm that law enforcement officers and prosecutors follow proper procedures when gathering evidence. He'll interview all key witnesses and preserve all relevant evidence, so that he can prepare and present the most compelling arguments for your acquittal.
Attorney Smith has been listed among the top 100 attorneys in Maryland by the National Trial Lawyers Association, a "by invitation only" professional organization. He holds a 10.0 (Superb) rating as a trial attorney from AVVO, as well as AVVO's Client's Choice Award, with an average client review of 5 stars.
Aggressive Ellicott City Drug Offense Attorney
Contact our office by e-mail or call 410-740-0101 for a free initial consultation. We represent criminal defendants in Carroll County, Frederick County, Howard County, Baltimore County, Prince George's County and Montgomery County in Maryland.