Black Guerrilla Family Lieutenant Cops to Plea on Drug Smuggling Charge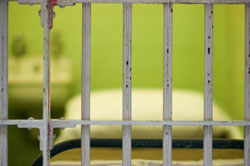 Based on evidence obtained from a female corrections officer with whom he was involved, a man authorities say was the second in command in the Black Guerrilla Family gang has pleaded guilty to a drug smuggling charge, reported The Baltimore Sun. The man, who joined the gang in 2011, was apparently the cellmate of the BGF's jail leader. The drug smuggling ring was apparently run from within the state's correctional system, with the assistance of a number of corrections officers. In April 2013, it was announced that 25 people, including 13 corrections officers, had been charged with racketeering as well as drug and money laundering.
In the case involving the BGF's number-two man, authorities intercepted a call between the suspect and the corrections officer with whom he was involved on which the suspect discussed using a debit card to obtain money to purchase drugs. When police brought the corrections officer in for questioning, they found that she had kept a ledger for her lover, listing all of his illegal transactions. The corrections officer also pleaded guilty to smuggling controlled substances.
Highly Respected Maryland Criminal Defense Attorney
Attorney Jonathan Scott Smith, a Maryland Super Lawyer, has protected the rights of criminal defendants in Maryland for more than three decades. He is a recipient of the Clients' Choice Award from AVVO, based on an average client review of 5 stars (the highest rating possible), and has a perfect 10.0 Superb rating as a litigation attorney from AVVO. Attorney Smith has also built an outstanding reputation with his colleagues in the legal profession, earning an AV rating under Martindale-Hubbell's Peer Review Rating System. Smith was also listed as a 2012 Top Rated Lawyer by The American Lawyer magazine and Martindale-Hubbell.
Criminal Defense Lawyer in Baltimore, MD
Regardless of the charges you face, we will aggressively protect your constitutional rights. Contact us by e-mail or call us at 410-740-0101 to schedule an appointment. We represent criminal defendants in Howard County, Anne Arundel County, Baltimore County, Carroll County, Frederick County, Prince George's County and Montgomery County in Maryland.