Top Rated Domestic Violence Attorney Howard County MD
Protective Order | Peace Order | Domestic Violence | Domestic Violence Abuse | Violation of Protective Order | Violation of Peace Order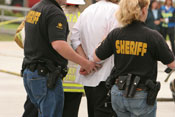 What Happens When You are Served with a Protective Order or Peace Order?
If you have been served with a protective order or a peace order, the legal process will move quickly. Typically, a hearing on a final order will be scheduled for one week later. That leaves little time to prepare a defense. In addition, you may have been forced to leave your home, and have no contact with your children.
At the hearing, the judge will decide if you committed an act of domestic violence. If so, the judge may award possession of the family home, custody of children, and financial support. In a divorce case, it would take months before a court hearing would occur to decide these issues. Not so in a protective order hearing.
Domestic Violence Abuse Attorney Columbia MD
We aggressively protect the rights of people who have been charged with or accused of domestic violence. We know from experience that these allegations can often be unfounded, and may be based only on the word of the alleged victim. In some cases there might be an ulterior motive, such as advantage in a divorce proceeding, a custody or visitation dispute, or revenge or punishment for some disagreement.
Top Rated Protective Order Peace Order Lawyer Howard County MD
Mr. Smith is a top rated attorney and former prosecutor with more than 35 years of extensive trial experience, including assault and domestic violence cases. Attorney Smith has handled thousands of assault, domestic violence, and other criminal cases in the local courts. Mr. Smith fights hard for his clients. That's why many satisfied clients think so highly of him.
Mr. Smith's extensive trial experience — and track record of successful results – has earned him the recognition of his peers and clients:
Maryland Super Lawyer (Past 5 consecutive years), and selected within Top 100 in Maryland.
"AV-Preeminent™*" (Highest peer rating for legal ability and ethics by Martindale-Hubbell Law Directory (every year since 1988).
Client Distinction Award (Client Review Rating of 4.5 or higher on 5.0 scale – less than 4% of 900,000+ attorneys listed by Martindale-Hubbell).
"Client's Choice Award" by AVVO, based on average client reviews of 5 stars – the highest client review possible.
Client Satisfaction Award, 10 Best Law Firms, American Institute of Criminal Law Attorneys.
"10.0 Superb" attorney rating by AVVO.
"I cannot express the appreciation I have for how you have handled my case and the work you have done for me. . . . Your professionalism and customer service is excellent and in this day and age it is hard to find people that conduct business as well as you have. . . . You presented yourself as a man of integrity and you could walk the walk and talk the talk. . . . I've boasted to everyone how I have the best lawyer and the ruling in my case definitely reflects that."
C.A. – Bel Air, MD
46-year-old corporate manager charged with Second Degree Assault arising out of domestic incident. Verdict of not guilty and all records expunged.
These are the highest ratings possible for legal skill, ethical practice, a lawyer's years in practice, disciplinary history, professional achievements, and industry recognition.
Contact Top Rated Assault Domestic Violence Attorney
To schedule an appointment with a top rated lawyer experienced with domestic violence, protective orders, and peace orders, contact us online or call us at 410-740-0101. Put the skill and experience of a former prosecutor to fight for you.