Woman Tries to Hit Grocery Store Employee with Car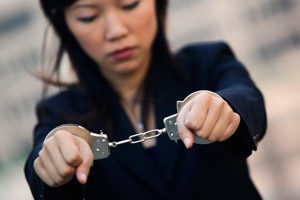 A 27-year-old woman is in custody after allegedly attempting to run over a Martin's Food employee in Eldersburg on August 14, 2019. According to the store employee, the woman entered the store, filled a cart and some bags with groceries, and then left without paying. When he confronted her in the parking lot, she attempted to run him over with the car she was driving. She missed, but crashed into a parked car in the parking lot and fled.
The employee took a picture of the vehicle's license plate and called police, who tracked down the owner in the 7400 block in Sykesville. The owner admitted that the woman lived there. She was arrested and charged with a number of other violations, including first-degree and second assault, theft, reckless driving, and driving without a license.
AV-Rated Frederick County Criminal Defense Attorney
Attorney Jonathan Scott Smith brings more than three decades of experience to criminal defendants throughout the greater Baltimore area and across the state of Maryland. He's been named one of the top 100 lawyers in Maryland by Super Lawyers, and was designated a Top Rated Lawyer by The American Lawyer Magazine in 2012. The American Institute of Personal Injury Attorneys has named him as one of the "10 Best Attorneys in the State of Maryland in Client Satisfaction."
Smith is a member of the Million Dollar Advocates Forum, given to less than 1% of all American lawyers who have obtained million dollar judgments, awards or settlements. He has a 10.0 (Superb rating) as a litigation attorney from AVVO and has also received the Client's Choice Award from AVVO, with an average client review of 5 stars.
Attorney Smith is a highly experienced trial attorney, with the skill, knowledge and resources to protect your rights in any criminal prosecution. He'll also gather, assess and preserve all evidence in your defense and will confirm that police and prosecutors followed constitutional requirements. He'll carefully question all potential witnesses, so that he can prepare and present the strongest arguments in your defense. He'll aggressively protect your constitutional rights throughout the criminal process, from investigation and arrest to arraignment and trial.
Smith has been AV-rated (the highest rating possible) by his colleagues in the legal profession under Martindale-Hubbell's Peer Review Rating System every year since 1988 and has also received Martindale-Hubbell's Client Distinction Award, awarded to less than 4% of all attorneys in that directory. The National Trial Lawyers Association, a "by invitation only" professional organization, has honored him as one of the top 100 attorneys in Maryland.
Baltimore, MD Criminal Defense Lawyer
Contact attorney Jonathan Scott Smith by e-mail or call our office at 410-740-0101 for an appointment. We represent criminal defendants in Howard County, Baltimore County, Carroll County, Frederick County, Prince George's County and Montgomery County in Maryland.