Are You Legally Required to Take a Field Sobriety Test?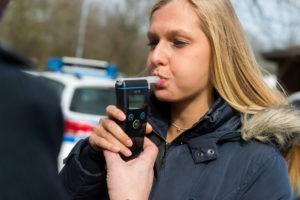 In Maryland, when you have been stopped while driving and the officer suspect that you are impaired, he or she may ask you to submit to a field sobriety test. That can take a variety of forms, from walking a straight line forward and backward to following the police officer's flashlight with your eyes. The purpose of the test is to establish probable cause to require that you take a breathalyzer or blood alcohol test.
You Are Not Required to Engage in a Field Sobriety Test in Maryland
Though the concept of implied consent requires that motorists in Maryland submit to a breathalyzer test (upon a finding of probable cause) or face significant sanctions, there is currently no law in the state of Maryland that requires that a driver take a field sobriety test. Accordingly, if you refuse to take a field sobriety test, the officer must base a finding of probable cause on other observations or evidence. Furthermore, your simple refusal to take a field sobriety test cannot be the basis for probable cause to require a breathalyzer test.
Proven Montgomery County Criminal Attorney
Attorney Jonathan Scott Smith has more than 40 years of experience protecting the rights of criminal defendants across the Baltimore metropolitan area and the state of Maryland, including people charged with misdemeanors or felonies. He has been received an AV-rating (the highest rating possible) under Martindale-Hubbell's Peer Review Rating System from his colleagues in the Maryland bar for more than three decades. He has been ranked among the top 100 lawyers in Maryland listed by SuperLawyers and was named a Top-Rated Lawyer by The American Lawyer Magazine. He has also earned Martindale-Hubbell's Client Distinction Award, awarded to less than 4% of all lawyers nationwide.
Over the past 30 years, attorney Smith has successfully protected the rights of individuals facing all types of criminal charges, including prosecution for domestic violence or abuse. He will work hard to protect your constitutional rights, fully investigating your case to verify that law enforcement officers and prosecutors follow proper procedures when gathering evidence. He'll question all potential witnesses and preserve all relevant evidence, so that he can prepare and present the most compelling arguments for your acquittal.
Attorney Smith has been listed among the top 100 attorneys in Maryland by the National Trial Lawyers Association, a "by invitation only" professional organization. He holds a 10.0 (Superb) rating as a trial attorney from AVVO, as well as AVVO's Client's Choice Award, with an average client review of 5 stars.
Aggressive Baltimore Criminal Defense Attorney
Contact our office by e-mail or call 410-740-0101 for a free initial consultation. We represent criminal defendants in Carroll County, Frederick County, Howard County, Baltimore County, Prince George's County and Montgomery County in Maryland.