What You Can Expect When Suspected of Drinking and Driving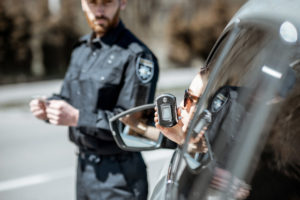 In Maryland, when a police officer pulls you over, regardless of the reason, the officer may ask if you have been drinking. If you answer affirmatively, or if the officer has reasonable cause to belief that you are impaired, he will likely ask you to step out of the car and take a field sobriety test. You don't have to take the test. All field sobriety tests are voluntary, and there's no legal penalty for refusing to take one. That doesn't mean, though, that the officer can't take you into custody and escort you to the police station, where you'll be asked to submit to a blood-alcohol-content test (there are penalties for refusing to take that test).
There are four field sobriety tests a law enforcement officer may administer. These are referred to as "standardized field sobriety tests," which means that they must be administered following a specific procedure. If proper procedure isn't followed, then test results cannot be used to take you into custody. The four tests are:
The horizontal gaze nystagmus—The officer asks you to focus on some item in his or her hand, such as a pen or flashlight, and watches for a jerking motion in your eyes.
The one-leg stand—The officer makes you stand on one leg for a specific period of time.
The walk-and-turn—The officer asks you to walk heel-to-toe away from the officer and back.
The portable breath test—The officer asks you to blow into a portable breath test kit. (In Maryland, portable breath test results are not admissible to show blood alcohol content.)
Experienced Baltimore County DUI/DWI Defense Attorney
Attorney Jonathan Scott Smith has fought for the rights of people charged with drunk driving in the metropolitan Baltimore area and throughout Maryland for over 30 years. Attorney Smith has been selected as a Top-Rated Lawyer by The American Lawyer magazine and has earned AVVO's prestigious Client's Choice Award, averaging 5 stars(the highest rating possible) in online client reviews. A Maryland SuperLawyer, he's AV-rated by his colleagues in the legal profession under Martindale-Hubbell's Peer Review System. Attorney Smith also has earned a perfect 10.0 (Superb) rating as a litigator from AVVO.
Attorney Smith takes an aggressive and methodical approach to the defense of drunk driving and other criminal charges. He'll carefully investigate the facts and circumstances of your traffic stop and detention to confirm that all procedures were correctly followed and that your constitutional rights were not violated. He'll review police reports and interview all witnesses in order to make the most persuasive arguments in your defense.
Proven Maryland Criminal Defense Lawyer
Contact experienced Maryland criminal defense attorney Jonathan Scott Smith by email or call us at 410-740-0101 to set up an appointment.We handle drunk driving prosecutions in Howard County, Baltimore County, Carroll County, Frederick County, Prince George's County, and Montgomery County in Maryland.