The Basic Rules for the Legalization of Marijuana in Maryland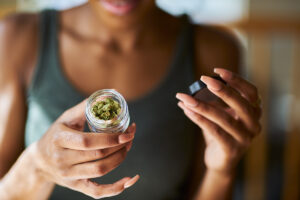 With voter support from a state-wide referendum last November, the Maryland legislature has passed legislation (and Governor Moore has signed) legalizing the recreational use of marijuana in the Old Line State. Let's look at some of the details of what that means for Marylanders.
When will the law officially go into effect?—The effective date for the legal use of cannabis (now the official name for marijuana in Maryland) is July 1, 2023
What are the age requirements to purchase weed in Maryland?—Unless you have a medical prescription, you must be at least 21 years of age (you can get a medical care if you are over the age of 18). Anyone purchasing recreational marijuana will be required to show a government-issued form of identification.
How much cannabis can you purchase at a time?—The law limits single purchases to 750 mg of THC at one time, regardless of the form in which it comes. You are also limited to 1.5 ounces of flower or 12 grams of concentrated cannabis in your possession at any time. Possession of more than 1.5 ounces, but less than 2.5 ounces, will subject you to a civil fine. Possession of more than 2.5 ounces may lead to criminal charges.
Experienced Montgomery County Criminal Defense Attorney
Attorney Jonathan Scott Smith brings more than 40 years of experience to criminal defendants throughout the Baltimore County area and across the state of Maryland. For more than 30 years, he has been consistently received an AV-rating (the highest rating possible) under Martindale-Hubbell's Peer Review Rating System from his colleagues in the Maryland bar. He has been listed among the top 100 lawyers in Maryland listed by SuperLawyers and was designated a Top-Rated Lawyer by The American Lawyer Magazine. He has been the recipient of Martindale-Hubbell's Client Distinction Award, an honor bestowed upon less than 4% of all lawyers nationwide.
Throughout his years in practice, attorney Smith has successfully protected the rights of individuals facing all types of criminal charges. He will zealously protect your constitutional rights, taking the time to carefully investigate your case and confirm that law enforcement officers and prosecutors follow proper procedures when gathering evidence. He'll interview all key witnesses and preserve all relevant evidence, so that he can prepare and present the most compelling arguments for your acquittal.
Attorney Smith has been listed among the top 100 attorneys in Maryland by the National Trial Lawyers Association, a "by invitation only" professional organization. He holds a 10.0 (Superb) rating as a trial attorney from AVVO, as well as AVVO's Client's Choice Award, with an average client review of 5 stars.
Proven Maryland Drug Crimes Defense Attorney
Contact our office by e-mail or call 410-740-0101 for a free initial consultation. We represent criminal defendants in Carroll County, Frederick County, Howard County, Baltimore County, Prince George's County and Montgomery County in Maryland.