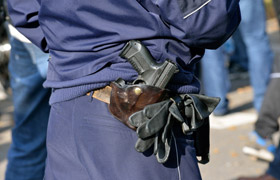 A Columbia man and a Huntingtown resident died after being shot by a homeowner in the 7600 block of Sandy Farm Road in Severn in early July. Duwayne Mason, of Columbia, and Timothy John Kerr, of Huntingtown, both died of wounds from a shotgun fired by homeowner John Matthew Garrison.
According to initial reports, Garrison claimed that he saw the two men approaching his house wearing masks and thought they were armed. He told police that he went in his house, got his gun and warned the two that he would shoot if they tried to enter. When Mason and Kerr attempted to kick down the front door, Garrison opened fire, striking both men. Kerr died in his vehicle while trying to leave the scene and Mason died in a home down the street, where he had gone to seek help.
In a search of Garrison's home following the incident, police found nearly 200 grams of cocaine, a quantity of amphetamines, a digital scale and more than $6,000 in cash. Garrison was arrested on drug charges.
Ellicott City, MD, Criminal Defense Attorney
For more than three decades in practice, attorney Jonathan Scott Smith has successfully obtained positive results for people facing criminal prosecution in Maryland. He takes a comprehensive approach to criminal defense, carefully gathering and assessing the facts and circumstances of your case. He'll verify that police followed proper procedures, and ensure that your constitutional rights were not violated.
Attorney Smith has built a strong reputation with clients and colleagues, earning recognition as a Maryland Super Lawyer, as well as an AV-rating under Martindale-Hubbell's Peer Review Rating System. Named a 2012 Top Rated Lawyer by The American Lawyer Magazine and Martindale-Hubbell, he has also the recipient of the Client's Choice Award from AVVO, based on an average client review of 5 stars (the highest rating possible). He also holds a 10.0 Superb rating as a litigation attorney from AVVO.
Violent Crimes Defense Lawyer in Maryland
To learn how we can help protect your rights in a criminal matter, contact us by e-mail or call our office at 410-740-0101 to schedule an appointment. We defend people throughout Howard County, Baltimore County, Carroll County, Frederick County, Prince Georges County and Montgomery County in Maryland.