Six People Shot in Three Separate Incidents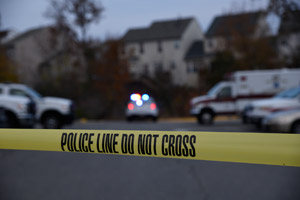 Baltimore police reported two dead and four more injured in three shootings Monday night, October 28, 2019:
Around 5 p.m., a 27-year-old man was found at the corner of Garrison Boulevard and Ridgewood Avenue, apparently suffering from a gunshot wound.
Sometime later, according to law enforcement officials, two unidentified men entered the intersection of Pimlico Road and Quantico Avenue and opened fire on a number of people standing in front of a corner store. Three people suffered non-life-threatening injuries, but a fourth person sustained a gunshot to the head and was declared dead on the scene.
Some moments later, police were called to Sinai Hospital, where a woman had been admitted after suffering a gunshot wound to the chest. Police believe she was shot about a mile and a half from the earlier incident. The woman died at the hospital.
Proven Frederick County Criminal Defense Lawyer
For over 30 years, attorney Jonathan Scott Smith has fought to protect the constitutional rights of people charged with crimes in Baltimore and across the state of Maryland. Attorney Smith has been listed among the top 100 lawyers in Maryland by Super Lawyers, and was named a Top Rated Lawyer by The American Lawyer in 2012. He has maintained an AV rating (the highest rating possible) under Martindale-Hubbell's Peer Review Rating System every year since 1988 and also has received Martindale-Hubbell's Client Distinction Award, an honor given to less than 4% of all attorneys listed.
The American Institute of Personal Injury Attorneys has called Smith one of the "10 Best Attorneys in the State of Maryland in Client Satisfaction." He's a member of the Million Dollar Advocates Forum, an honor bestowed upon less than 1% of all American lawyers who have obtained million-dollar judgments, awards or settlements. The National Trial Lawyers Association, a "by invitation only" professional organization, lists him as one of the top 100 attorneys in Maryland. He also has a 10.0 (Superb) rating as a litigation attorney from AVVO and has received the Client's Choice Award from AVVO, with an average client review of 5 stars.
Attorney Smith has a thorough knowledge of criminal law and procedure. He will carefully investigate your case, gathering, evaluating and protecting all relevant evidence. He'll assess the actions of law enforcement officers, ensuring that they did not violate your constitutional rights.
Results-Oriented Criminal Defense Attorney in the Metropolitan Baltimore Area
At the law offices of Jonathan Scott Smith, we fight for the rights of criminal defendants throughout Baltimore County and the surrounding communities. Contact us online or call 410-740-0101 to arrange a meeting. We handle cases throughout Anne Arundel County, Carroll County, Frederick County, Howard County, Baltimore County, Prince George's County and Montgomery County in Maryland.