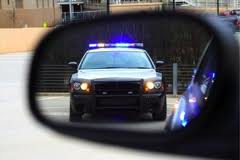 The soon-to-be former head of the U.S. Federal Prisons recently issued a shame-filled apology for his embarrassing DUI arrest in February. According to an Anne Arundel County police report, Harley Lappin, 55, was pulled over February 26 after an officer spotted him nearly swerve into two vehicles. The report further reported that Lappin's eyes were bloodshot, his speech was slurred, his breath smelled of alcohol, and he was unable to walk a straight line or keep his balance on one foot during sobriety tests. He had been driving near his Annapolis home in the wee hours of the morning.
Lappin was charged with three counts related to drunk driving and one count each of reckless driving, negligent driving and failing to obey a traffic control device. Following his arrest, Lappin submitted to a breath test. His blood-alcohol content registered .12; the legal limit to drive in Maryland is .08. His case is set for trial June 16 in Annapolis District Court.
Lappin's February arrest only came to light when he issued a formal apology to his staff on Tuesday, March 29. He made no mention of his DUI arrest when he had initially announced his intention to retire from his job March 25.
Lappin has run the federal prisons system since 2003 after several years running the prison in Butner, North Carolina, where Ponzi-king Bernie Madoff is currently imprisoned. He also presided over the 2001 execution of Oklahoma City bomber Timothy McVeigh while serving as the warden of the U.S. penitentiary in Terre Haute, Indiana.
His June trial won't be the first time Lappin has appeared in court as a defendant, rather than on the side of the law. In an unrelated incident, he was caught speeding in Annapolis on March 20. Police said he was driving 69 mph in a 50 mph zone. He pled guilty to speeding March 28 and paid a $90 fine.