When Should You Take Your Traffic Violation to Trial?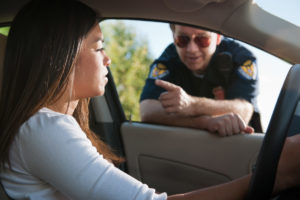 When you're issued a traffic citation in Maryland, the ticket offers you a choice—you can either pay the fine (in person or online) or request a trial. It can be tempting to pay the fine and be done with it. After all, unless you have witnesses, it will be your word against that of the police officer, which might seem like a losing proposition.
But there are good reasons to request a trial, even if you violated traffic law:
The ticket identifies a fixed amount for the fine—If you plead guilty (which you must do when you simply pay the fine), you can't change that. At a hearing, though, the judge can consider evidence or testimony and has the discretion to reduce or even waive the fine. Furthermore, the judge can reduce or waive any points added to your driving record.
The police officer may not show up at the hearing—Without the testimony of the police officer, the prosecution doesn't have much of a case.
You need only show "reasonable" doubt as to your guilt—A strong witness with testimony that conflicts with that of the police officer can meet that burden.
The police officer may have made a mistake—A knowledgeable attorney may identify ways the police officer either failed to follow protocols or violated your constitutional rights.
Experienced Baltimore Traffic Citations Lawyer
Jonathan Scott Smith, a Maryland SuperLawyer, brings more than 30 years of experience to individuals throughout Baltimore and the surrounding communities who are charged with a traffic offense. AV-rated by his colleagues in the legal profession under Martindale-Hubbell's Peer Review Rating System, he has also been named a Top-Rated Lawyer by The American Lawyer magazine. He's received AVVO's Client's Choice Award, with the highest rating possible (5 stars), and has a 10.0 (Superb) rating from AVVO as a trial attorney.
Attorney Scott Smith knows that conviction for a traffic offense can have detrimental consequences and will work hard to ensure that your constitutional rights were protected. He will examine the traffic stop to verify that police had probable cause to pull you over and determine whether you were properly advised of your rights.
Effective Traffic Ticket Attorney in Prince George's County
To schedule a confidential consultation to discuss your options after receiving a traffic citation, contact attorney Jonathan Scott Smith online or call 410-740-0101 to set up an appointment. Attorney Smith handles traffic violations throughout the Baltimore and the surrounding area, including Howard County, Baltimore County, Carroll County, Frederick County, Prince George's County, and Montgomery County.