Notice of Point Suspension | Notice of Suspension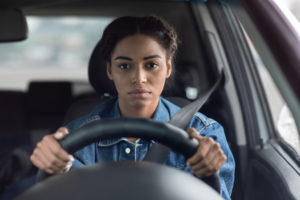 In Maryland, when you plead guilty to or are convicted of certain traffic violations, you will have points added to your driving record. If you accumulate eight, but less than 12, points within a two-year-period, you will receive a notice from the state of Maryland that your driving privileges have been suspended. That notice may take two forms:
A Notice of Point Suspension—This indicates that your suspension is based solely on the number of points you have received. With a Notice of Point Suspension, you'll have two options—either accept the suspension or request a hearing. The Notice of Point Suspension will identify the effective date of suspension. You must turn over your drivers license to the Maryland Motor Vehicle Administration by that date, or your suspension will be extended (until you do turn over your license).
A Notice of Suspension—This type of suspension indicates that at least one of your moving violations was an alcohol or drug-related offense. When you receive a Notice of Suspension, you can accept the suspension or ask for a hearing. You can also apply to participate in Maryland's ignition interlock program. If accepted, your license will not be suspended, but you will be required to pay for the installation of an ignition interlock on your vehicle, which will prohibit you from driving the vehicle without first taking a breath test.
AV-Rated Prince George's County Traffic Ticket Lawyer
Attorney Jonathan Scott Smith has successfully fought for the rights of criminal defendants across the Baltimore metropolitan area and throughout the state of Maryland for more than 30 years, including clients who have faced the suspension of driving privileges. He has been AV-rated (the highest rating possible) by his colleagues in the legal profession under Martindale-Hubbell's Peer Review Rating System every year since 1988. He has also earned Martindale-Hubbell's Client Distinction Award, an honor granted to less than 4% of all attorneys listed in Martindale-Hubbell's directory. He's been among the top 100 lawyers in Maryland listed by SuperLawyers, and has also been named a Top-Rated Lawyer by The American Lawyer Magazine.
Attorney Smith brings extensive skill, experience, knowledge and resources to the defense of a wide range of criminal charges. He understands your constitutional rights and knows when police and prosecutors have improperly gathered evidence or detained you. He'll carefully identify and interrogate all witnesses, so that he can prepare a strong defense before a judge and jury.
A proven trial attorney, Jonathan has been included among the top 100 attorneys in Maryland by the National Trial Lawyers Association, a "by invitation only" professional organization. He has also earned a 10.0 (Superb rating) as a litigation attorney from AVVO, as well as AVVO's Client's Choice Award, with an average client review of 5 stars.
Baltimore, Maryland Traffic Violations Defense Attorney
Contact our office by e-mail or call 410-740-0101 for an appointment. We represent criminal defendants in Carroll County, Frederick County, Howard County, Baltimore County, Prince George's County and Montgomery County in Maryland.