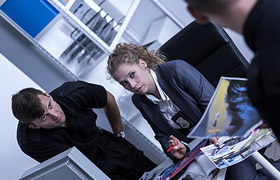 A Severn woman has been sentenced to serve a period of probation for her involvement in an incident where an Anne Arundel County police officer was shot. Danielle Blake, 30, was initially sentenced to serve eight years in prison for her participation in the events following the shooting. The officer who was shot, Corporal Larry Adams, testified in court that he forgave Blake for her role in the shooting and asked the court not to make her serve any more time in jail. The judge suspended the prison sentence.
According to court records, Blake was in a vehicle with Colvin White, of Annapolis, on April 10, 2015. White had gone to a nearby 7-Eleven to get gas when Corporal Adams approached the vehicle. The officer then went to the 7-Eleven in response to a report of a suspicious person (White). He then chased White into a nearby wooded area, where White shot him twice. White then fled in the van with Blake.
Adams told the court that, in his opinion, Blake had no intention of committing an illegal act that day, and did not initially know that White had shot him.
Highly Respected Maryland Criminal Defense Attorney
Attorney Jonathan Scott Smith, a Maryland Super Lawyer, has fought for the rights of criminal defendants in Maryland for more than three decades. He is a recipient of the Client's Choice Award from AVVO, based on an average client review of 5 stars (the highest rating possible), and has a perfect 10.0 Superb rating as a litigation attorney from AVVO. Attorney Smith has also built an outstanding reputation with his colleagues in the legal profession, earning an AV-rating under Martindale-Hubbell's Peer Review Rating System. Smith was also listed as a 2012 Top Rated Lawyer by The American Lawyer Magazine and Martindale-Hubbell.
Criminal Defense Lawyer in Baltimore, MD
If you or someone you love has been charged with a crime, we can help. Contact us by e-mail or call us at 410-740-0101 to schedule an appointment. We represent criminal defendants in Howard County, Baltimore County, Carroll County, Frederick County, Prince Georges County and Montgomery County in Maryland.