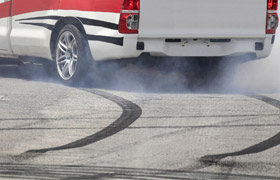 Prosecutors Decline to Press Charges in Speedway Accident
A New York grand jury "no-billed" NASCAR legend Tony Stewart after its investigation of his involvement in the death of another driver at a racetrack in upstate New York in August. Stewart, a three-time NASCAR champion, struck and killed driver Kevin Ward, Jr., at a dirt track in Canandaigua. Police said that Ward was under the influence of marijuana at the time of the accident, but that Stewart was clean.
According to witnesses, Ward and Stewart were together on the track when Ward spun out while racing next to Stewart. Witnesses say Ward then climbed out of his vehicle and started walking down the middle of the track, while other drivers were still responding to a caution flag. Testimony indicates that Ward was waving at Stewart, trying to confront him. A driver in front of Stewart veered and safely avoided Ward, but when Stewart tried to swerve around him, he struck ward with the right rear tire of his car. Ward died almost immediately, due to blunt force trauma.
NASCAR has since enacted a new rule that drivers may not climb out of a disabled vehicle until safety personnel arrive, unless the vehicle is on fire.
The likelihood of criminal charges was minimal, say experienced prosecutors. They note that law enforcement officers and district attorneys are reluctant to press charges for actions that occur during sports competition, unless the acts were clearly outside the scope of the athletic event.
Top-Rated Maryland Criminal Defense Attorney
Attorney Jonathan Scott Smith, a Maryland Super Lawyer, has fought for the rights of criminal defendants in Maryland for more than 30 years. Because of his record and reputation for effective representation, he has been awarded the Client's Choice Award from AVVO, based on an average client review of 5 stars (the highest rating possible). He has a perfect 10.0 Superb rating as a litigation attorney from AVVO, and has also built an outstanding reputation with his colleagues in the legal profession, earning an AV-rating under Martindale-Hubbell's Peer Review Rating System. Smith was also recognized as a 2012 Top Rated Lawyer by The American Lawyer Magazine and Martindale-Hubbell.
Criminal Defense Lawyer in Ellicott City and Columbia, MD
Regardless of the charges you face, we will aggressively protect your constitutional rights. Contact us by e-mail or call us at 410-740-0101 to schedule an appointment. We represent criminal defendants in Howard County, Baltimore County, Carroll County, Frederick County, Prince Georges County and Montgomery County in Maryland.
http://omnifeed.com/article/espn.go.com/racing/nascar/cup/story/_/id/11582576/tony-stewart-face-charges-death-kevin-ward-jr?utm_source=twitter&utm_medium=sports