How to Get a Court Order Restraining the Actions of Another Person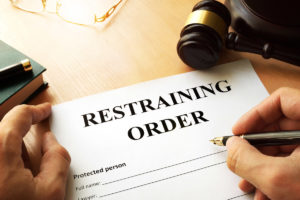 Do you need to take legal action to limit another person's contact with you? In the state of Maryland, you can obtain a protective order through either the District Court or Circuit Court in the county where you live. Before a court will issue such an order, you must show how you might be subjected to abuse by the restrainee. That requirement can be met by showing one or more of the following:
Actual physical violence in the past—hitting, kicking, shoving, punching, biting, or throwing objects at you
Threats or actions that reasonably put you in fear of imminent serious injury
Rape or sexual assault
Stalking
False imprisonment
Mental injury to a child
To qualify for a protective order, a person must fall into one of the following categories:
A current or former spouse of the abuser
A cohabitant of the abuser
A person related to the abuser, whether by blood, marriage, or adoption
A person who has had a child with the abuser
A person who has been involved in a sexual relationship with the abuser within one year of the petition for a protective order
A parent, stepparent, or stepchild, provided they have lived with the abuser for at least 90 days in the last 12 months
Any vulnerable adult
Experienced Criminal Defense Attorney in Baltimore County
Attorney Jonathan Scott Smith brings more than three decades of experience to criminal defendants throughout the greater Baltimore area and across the state of Maryland. A recipient of the Client's Choice Award from AVVO, with an average client review of 5 stars(the highest rating possible), he also has a perfect 10.0 (Superb) rating as a litigation attorney from AVVO and was named a 2012 Top-RatedLawyer by The American Lawyer magazine.
Attorney Smith is AV-rated by his colleagues in the legal profession under Martindale-Hubbell's Peer Review System and has been named a Maryland Super Lawyer. He'll fight for your constitutional rights in any criminal proceeding, from investigation and arrest to arraignment and trial, if necessary. He'll carefully investigate the facts and circumstances of your arrest and detention in order to present the strongest arguments for your acquittal. He's a proven trial attorney, with the experience, skill, knowledge, and resources to protect your rights in any criminal matter.
Prince George's County Criminal Defense Lawyer
Contact criminal defense lawyer Jonathan Scott Smith by e-mail or call our office at 410-740-0101 for an appointment. We handle criminal prosecutions in Howard County, Baltimore County, Carroll County, Frederick County, Prince George's County, and Montgomery County in Maryland.