The Consequences of Killing Someone in a Car Accident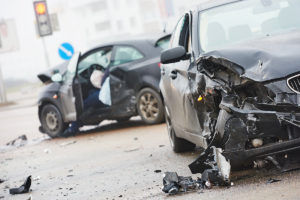 Under Maryland law, you can be prosecuted for vehicular homicide as a consequence of four different events:
Manslaughter by vehicle—A felony, this charge involves a traffic death resulting from gross negligence. Potential sanctions include up to 10 years in prison, as well as up to $5,000 in fines. If you have prior convictions for homicide or vehicular homicide, the prison term can be extended to 15 years and the fines can be doubled.
Criminally negligent manslaughter—This is generally charged as a misdemeanor offense, but can result in a three-year-prison term, as well as $5,000 in fines. A prior conviction can change the offense from a misdemeanor to a felony, with the potential for 5 years of incarceration and $10,000 in fines.
Homicide by motor vehicle under the influence of alcohol—Another felony, this can bring a 5-year-prison-term for first time offenders, as well as $5,000 in fines. A second prosecution may cause the penalties to be doubled.
Vehicular homicide while impaired by drugs, alcohol or a controlled substance—Also a felony, this crime can lead to 3-5 years in prison, as well as $5,000-$10,000 in fines, based on the number of prior convictions.
Aggressive Baltimore DUI/DWI Defense Lawyer
Attorney Jonathan Scott Smith brings more than three decades of proven experience to criminal defendants across the Baltimore metropolitan area and the state of Maryland, including people charged with violent crimes. He has been received an AV-rating (the highest rating possible) under Martindale-Hubbell's Peer Review Rating System from his colleagues in the Maryland bar for more than 34 years. He has been ranked among the top 100 lawyers in Maryland listed by SuperLawyers and was named a Top-Rated Lawyer by The American Lawyer Magazine. He has also earned Martindale-Hubbell's Client Distinction Award, awarded to less than 4% of all lawyers nationwide.
Over the past 30 years, attorney Smith has successfully protected the rights of individuals facing all types of criminal charges, including prosecution for domestic violence or abuse. He will work hard to protect your constitutional rights, fully investigating your case to verify that law enforcement officers and prosecutors follow proper procedures when gathering evidence. He'll question all potential witnesses and preserve all relevant evidence, so that he can prepare and present the most compelling arguments for your acquittal.
Attorney Smith has been listed among the top 100 attorneys in Maryland by the National Trial Lawyers Association, a "by invitation only" professional organization. He holds a 10.0 (Superb) rating as a trial attorney from AVVO, as well as AVVO's Client's Choice Award, with an average client review of 5 stars.
Aggressive Montgomery County Vehicular Homicide Defense Attorney
Contact our office by e-mail or call 410-740-0101 for a free initial consultation. We represent criminal defendants in Carroll County, Frederick County, Howard County, Baltimore County, Prince George's County and Montgomery County in Maryland.