The Consequences of an Arrest and Conviction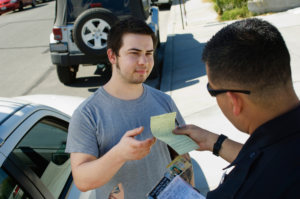 Maybe you forgot to renew your driver's license, or you had an unpaid ticket that caused your driving privileges to be suspended. Then you get pulled over—it's not really a big deal, is it? Can't you just explain what happened to the officer and go directly to the license office and reestablish your right to drive? Not necessarily—a ticket for driving on a suspended license can lead to significant penalties, including fines and even jail time.
Driving on a suspended license in Maryland is a misdemeanor. If the prosecutor can show that you knew your license had been revoked or suspended, or that you were charged with the same offense before, the repercussions will typically be more severe. Under Maryland law, if your license is suspended, the minimum penalties include a $500 fine and 60 days in jail, but the court may increase the penalties based on the reasons for the suspension. You're more likely to get a stiff sentence if your license was suspended due to an accumulation of points on your driving recordthan if you forgot to have your mandatory emissions test conducted. There's also the potential for 12 points to be added to your driving record, which can lead to a dramatic increase in your auto insurance premiums. The maximum penalty for driving on a suspended license is 12 months in jail and a $1,000 fine (along with thepoints on your record).
Proven Criminal Defense Attorney in Baltimore
Attorney Jonathan Scott Smith is AV-rated by his colleagues in the legal profession under Martindale-Hubbell's Peer Review System and has been named a Maryland Super Lawyer. A recipient of the Client's Choice Award from AVVO, with an average client review of 5 stars(the highest rating possible), Smith also has a perfect 10.0 (Superb) AVVO rating as a litigation attorney. He was named a 2012 Top-Rated Lawyer by The American Lawyer magazine.
Attorney Smith offers more than three decades of experience to criminal defendants throughout the greater Baltimore area and across the state of Maryland. He'll fight for your constitutional rights in any criminal proceeding, from investigation and arrest to arraignment and trial, if necessary. He'll carefully investigate the facts and circumstances of your arrest and detention in order to present the strongest arguments for your acquittal. He's a proven trial attorney, with the experience, skill, knowledge, and resources to protect your rights in any criminal matter.
Ellicott City, Maryland, Criminal Defense Lawyer
Contact criminal defense lawyer Jonathan Scott Smith by e-mail or call our office at 410-740-0101 for an appointment. We handle criminal prosecutions in Howard County, Baltimore County, Carroll County, Frederick County, Prince George's County, and Montgomery County in Maryland.