Conviction for the Lesser Offense of DWI in Maryland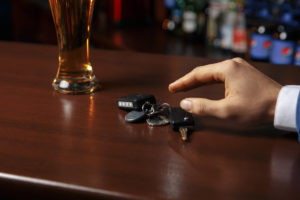 In Maryland, you can be convicted of driving while intoxicated/impaired if it can be shown in court that your ability to drive was affected to some extent by the consumption of alcohol or controlled substances. As a general rule, you may be charged with DWI if your blood alcohol level (BAC) is .07 or higher. (A DUI charge, which carries stiffer penalties, requires a BAC of .08 or higher.) You can be charged with a DWI even though your vehicle is not on the road or in motion, provided you are in the vehicle and the ignition is engaged.
Because DWI is considered a lesser offense than driving under the influence (DUI), the penalties are less harsh. For a first conviction, the maximum jail term is two months, and the maximum fine is $500. Prior convictions for DWI or DUI, however, can lead to stiffer sentences. A second conviction can bring a jail sentence of up to a year, and a third conviction can result in five years in prison. You also can face up to $5,000 in fines for a third conviction.
An Experienced Maryland DWI Defense Attorney
Attorney Jonathan Scott Smith has successfully protected the constitutional rights of people across the Baltimore area and throughout Maryland for almost 40 years, including people charged with driving while intoxicated or impaired. He's been named a Top-Rated Lawyer by American Lawyer Magazine, as well as a Maryland SuperLawyer. His fellow attorneys have consistently given him an AV-rating (the highest possible) under Martindale-Hubbell's Peer Review Rating System). He has a 5-star average rating (the highest possible) for all client reviews with AVVO, earning him the prestigious Client's Choice Award. He also has a perfect 10.0 (Superb) AVVO rating as a litigator.
Attorney Smith will work hard to gather and preserve evidence in your defense, so he can present the most persuasive arguments for your acquittal. He will be at your side throughout a criminal prosecution, from investigation and arraignment to trial, if necessary. He brings extensive trial experience to every case he handles and will make every effort to protect your rights before a judge and jury.
Experienced Carroll County Criminal Defense Lawyer
Contact Maryland criminal defense attorney Jonathan Scott Smith by email or call us at 410-740-0101 to set up an appointment. We handle DUI defense in Howard County, Baltimore County, Carroll County, Frederick County, Prince George's County, and Montgomery County in Maryland.