National victims of crime to be honored April 16–21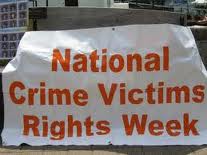 Victims of crime are not forgotten by their friends and family, and the U.S. Department of Justice (DOJ) is determined to keep their stories in the public's sights, too.
Each April since 1981, the Office of Victim of Crimes (OVC), a division of the DOJ, sponsors the National Crime Victims' Rights Week (NCVRW). The OVC helps communities lead special programs designed to promote victims' rights, honoring crime victims and those who advocate on their behalf.
This year, the NCRVW is set for April 16–21. The theme is "Reshaping the Future, Honoring the Past."
The state of Maryland sponsors its own series of programs designed to honor crime victims. On Sunday, April 10, the state's attorneys' offices in Baltimore, Carroll, Queen Anne's and St. Mary's counties, along with the Maryland State Board of Victims Services, will hold the 22nd annual Maryland statewide memorial service for crime victims and their families. Premised on the theme "Something Beautiful Remains," the event will be marked by four regional services held simultaneously.
Services for the state's northern region will be held from 2 p.m.–4 p.m. at Notre Dame Preparatory School in Baltimore, while the southern region will hold its commemoration from 1 p.m.–3 p.m. The event will take place at the Greater Waldorf Jaycee Community Center in Waldorf. Centreville United Methodist Church in Centreville will house the eastern region's service from 2 p.m.–4 p.m. The church is located at 608 Church Hill Rd. The western region will hold its commemoration at the VFW Post #467 in Westminster, also from 2 p.m.–4 p.m.
For further information about the NCRVW, check out the 2011 NCVRW Resource Guide.
Attorney Smith is rated AV® Preeminent™* by his colleagues in the local legal community under Martindale-Hubbell's Peer Review Rating System. This is the highest rating possible for legal skill and ethical practice.
Contact The Smith Criminal Defense Firm
To schedule an appointment, contact us online or call us at 410-740-0101. Put the skill and experience of a former prosecutor to fight for you. We accept Visa, MasterCard, Discover and American Express.