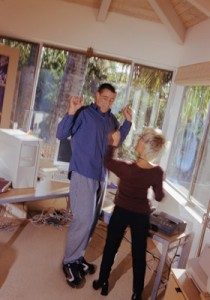 Legislator Says Victims Should Have More Time
Charles County Delegate C.T. Wilson is leading the fight in the Maryland legislature to amend the state's law governing how much time a victim of child sexual abuse has to sue their abusers. Under current law, victims must file a lawsuit by the time they are 25. Wilson is asking fellow legislators to raise that age to 38.
According to Wilson, denial is the biggest challenge that many victims face. "It takes so many years to even acknowledge that it happened," he told reporters after he testified before fellow lawmakers in Annapolis. Child welfare advocates have been lobbying the Maryland legislature to change the law for more than 10 years, but have encountered repeated resistance, most notably from the Catholic Church. A representative of the Maryland Catholic Conference expressed concern that allowing victims to come forward "thirty years later" would be extremely difficult, as evidence could be scarce, alleged abusers may be dead, and organizations like the Catholic Church would be unfairly forced to defend themselves.
Top-Rated Ellicott City Criminal Defense Attorney
Jonathan Scott Smith, a Maryland Super Lawyer, has more than 30 years of experience successfully protecting the rights of criminal defendants. He was a recipient of the Client's Choice Award from AVVO, based on an average client review of 5 stars (the highest rating possible). Smith has a perfect 10.0 Superb rating as a litigation attorney from AVVO, and is also respected by his colleagues in the legal profession, who have given him an AV-rating under Martindale-Hubbell's Peer Review Rating System. Smith was also recognized as a 2012 Top Rated Lawyer by The American Lawyer Magazine and Martindale-Hubbell.
Top-Rated Criminal Defense Lawyer in the Greater Baltimore Area
We aggressively represent people who have been charged with a criminal act. Contact us by e-mail or call us at 410-740-0101 to schedule an appointment. We represent criminal defendants in Howard County, Baltimore County, Carroll County, Frederick County, Prince Georges County and Montgomery County in Maryland.
Source – http://baltimore.cbslocal.com/2015/05/11/md-politician-sexually-abused-as-child-wants-to-change-the-law/