What Constitutes Possession? When Does Possession Involve an Intent to Sell?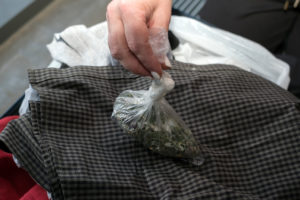 In recent weeks, there has been much controversy in Baltimore, as the city's State Attorney, Marilyn Mosby, has dismissed approximately half of the narcotics cases brought to her, stating that she will no longer prosecute drug possession cases. The decision is a carryover from 2020, when the city sought to minimize the spread of the coronavirus in jails. Mosby stressed, however, that only cases of simple possession would be dismissed—a person who meets the criteria for possession with intent to distribute will still be prosecuted.
What Is Possession?
Under Maryland law, a person may be charged with possession for either having under his control, administering or attempting to obtain a controlled substance, unless the person has a prescription or order from an authorized provider. Furthermore, a person may still be charged with possession, even with a prescription/order, if there was:
Fraud, deception, misrepresentation or subterfuge'
Concealment of a material fact
Forgery or counterfeiting involving a prescription/written order
Use of a false name or identity
When Does Possession Rise to "Intent to Distribute"?
The distinction between possession and possession with intent to distribute is based on the quantity of the controlled substance. The quantity varies based on the specific controlled substance.
AV-Rated Frederick Criminal Defense Attorney
Attorney Jonathan Scott Smith brings more than 30 years of proven experience to criminal defendants across the Baltimore metropolitan area and throughout the state of Maryland. He has been AV-rated (the highest possible) by his fellow attorneys under Martindale-Hubbell's Peer Review Rating System every year since 1988. Attorney Smith has also been the recipient of Martindale-Hubbell's Client Distinction Award, bestowed upon less than 4% of all attorneys listed in Martindale-Hubbell's directory. He's been among the top 100 lawyers in Maryland listed by Super Lawyers, and has been honored as a Top-Rated Lawyer by The American Lawyer Magazine.
Attorney Smith brings considerable skill and experience to the defense of a wide range of criminal charges. He knows how to effectively gather, assess and preserve all evidence to support an acquittal. He has a comprehensive understanding of your constitutional rights and ensure that police and prosecutors followed all required procedures when gathering evidence or detaining you. He'll carefully question all potential witnesses, so that he can prepare and present the most compelling arguments in your defense.
Smith has been included among the top 100 attorneys in Maryland by the National Trial Lawyers Association, a "by invitation only" professional organization. He has also earned a 10.0 (Superb rating) as a litigation attorney from AVVO, as well as AVVO's Client's Choice Award, with an average client review of 5 stars.
Ellicott City, Maryland Criminal Defense Attorney
Contact our office by e-mail or call 410-740-0101 for an appointment. We represent criminal defendants in Carroll County, Frederick County, Howard County, Baltimore County, Prince George's County and Montgomery County in Maryland.