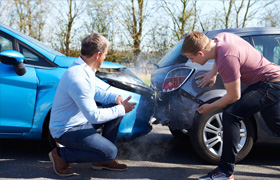 A 50-year-old Baltimore man has been charged with second degree murder in connection with the disappearance of another Baltimore man last November. Anne Arundel police officials say that Richard Wayne Brooks is being held without bond in the apparent death of Mark Hatmaker, of Baltimore County. Hatmaker's family members say the last time they saw him was November 24. According to officers, Hatmaker met with Brooks the same day he disappeared, and was known to have a large amount of cash on him at the time.
During the course of an investigation, police learned that Brooks asked a friend to rent a U-Haul truck for him on the day Hatmaker disappeared and that Brooks had purchased 45 gallon heavy duty bags, a 9×12 tarp and polypropylene tape. Police obtained a search warrant for the U-Haul and found evidence that there had been a large amount of human blood in the storage area. They then obtained a search warrant of a motor home belonging to Brooks, where they found more evidence of human blood and tissue, and matched it to Hatmaker.
Top-Tier Criminal Defense Lawyer in Columbia and Ellicott City, MD
Attorney Jonathan Scott Smith, a Maryland Super Lawyer, has protected the rights of criminal defendants in Maryland for more than 30 years. With a stellar record and reputation for effective representation, he has been awarded the Client's Choice Award from AVVO, based on an average client review of 5 stars (the highest rating possible). Smith has a perfect 10.0 Superb rating as a litigation attorney from AVVO, and has also earned an outstanding reputation with his colleagues in the legal profession, earning an AV-rating under Martindale-Hubbell's Peer Review Rating System. Smith was also recognized as a 2012 Top Rated Lawyer by The American Lawyer Magazine and Martindale-Hubbell.
Baltimore County, Maryland, Criminal Defense Attorney
If you have been arrested and charged with a crime, we can help. Contact us by e-mail or call us at 410-740-0101 to schedule an appointment. We represent criminal defendants in Howard County, Baltimore County, Carroll County, Frederick County, Prince Georges County and Montgomery County in Maryland.