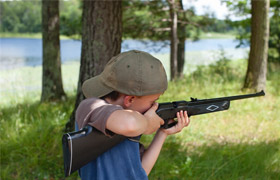 A Prince Frederick man has been charged with attempted second degree murder, assault and reckless endangerment after shooting a 9-year-old in the head with a BB gun. Brandon Lee Stallings, 18, was charged after the April 5 incident at his grandparents' house in Edgewater. Police learned of the assault the day after it happened, when the boy was taken to Baltimore Washington Medical Center for treatment.
According to police reports, Stallings, who has lived with his grandparents for a couple years, was there with the victim and two other boys watching television. Stallings apparently had the gun in his hands and pumped it a number of times, even though one of the other boys had asked him to put the gun down. The gun discharged and hit the 9-year-old in the temple. Adults in the home were notified, but an initial check seemed to indicate that the boy was okay. The next day, though, the boy's mother took him to the hospital, where it was determined that the BB had penetrated his skull.
Stallings claimed that he was playing with the gun when it accidentally discharged. His mother, though, says she does not believe it was an accident.
Maryland Criminal Defense Attorney
Maryland Super Lawyer Jonathan Scott Smith has fought for the rights of criminal defendants for more than 30 years. Because of his record and reputation, he has been a multiple recipient of the Client's Choice Award from AVVO, based on an average client review of 5 stars (the highest rating possible). He has a perfect 10.0 Superb rating as a litigation attorney from AVVO, and is also respected by his colleagues in the legal profession, who have given him an AV-rating under Martindale-Hubbell's Peer Review Rating System. Smith was also recognized as a 2012 Top Rated Lawyer by The American Lawyer Magazine and Martindale-Hubbell.
Top-Rated Criminal Defense Lawyer in Ellicott City and Columbia, MD
We aggressively advocate for people who have been charged with any type of crime. Contact us by e-mail or call us at 410-740-0101 to schedule an appointment. We represent criminal defendants in Howard County, Baltimore County, Carroll County, Frederick County, Prince Georges County and Montgomery County in Maryland.