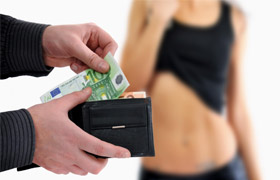 Police have arrested and charged a 46-year-old Laurel man with human trafficking involving two girls aged 13 and 15. Arthur Coleman has been also cited for prostitution, sexual solicitation of a minor, sexual abuse of a minor and attempted second degree sexual assault. Police busted Coleman after tracking him through an online advertisement.
Officers say they set up a sting with a female detective posing as a young girl. The detective contacted the 13-year-old, saying that she wanted to make money with her, and arranged to meet her and an older man in Columbia, Maryland. When they met, both the 13 and the 15-year-old girl were in the car with Coleman. After police took Coleman into custody, a search of his vehicle produced condoms, cash and a number of cell phones. Police also say they have evidence that Coleman rented hotel rooms in Maryland, Virginia and Washington, DC, using them as liaisons for the young girls to have sex for money.
Top-Rated Criminal Defense Attorney in Maryland
Jonathan Scott Smith, a Maryland Super Lawyer, has aggressively protected the rights of criminal defendants in Maryland for more than 30 years. He carries a perfect 10.0 Superb rating as a litigation attorney from AVVO, and has received the Client's Choice Award from AVVO, with an average client review of 5 stars (the highest rating possible). He is also widely respected by his colleagues in the legal profession, earning an AV-rating under Martindale-Hubbell's Peer Review Rating System. Smith was also recognized as a 2012 Top Rated Lawyer by The American Lawyer Magazine and Martindale-Hubbell.
Ellicott City Criminal Defense Lawyer
If you or someone you love faces criminal charges, contact our office by e-mail or call us at 410-740-0101 to schedule an appointment. We represent criminal defendants in Howard County, Baltimore County, Carroll County, Frederick County, Prince Georges County and Montgomery County in Maryland.