Suspect Detained for Spate of "Smash and Grab" Burglaries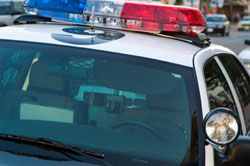 After a September 20 robbery at Parks Liquors in Deale, police used surveillance video evidence to identify the motor vehicle used in the crime. When they stopped a vehicle matching that description, they located tools in the car that they believe were used in the liquor store robbery as well as a number of similar "smash and grab" burglaries of small businesses throughout Anne Arundel County, reported The Baltimore Sun.
According to authorities, the suspect had a tire iron and used it to break the front-door glass at nine businesses across the county. The first known robbery, at a Starbucks in Severna Park, occurred on July 28. Though the first three break-ins all took place in Severna Park, police believe the suspect then moved to other locations in the county, from Gambrills to Glen Burnie to Edgewater. The suspect, a 54-year-old male, apparently lives in Glen Burnie. Police say that their investigation is not closed and that there may be other unsolved robberies tied to the suspect.
Maryland Criminal Defense Attorney
Maryland Super Lawyer Jonathan Scott Smith has fought for the rights of criminal defendants for more than 30 years. Because of his record and reputation, he has been a multiple recipient of the Clients' Choice Award from AVVO, based on an average client review of 5 stars (the highest rating possible). He has a perfect 10.0 Superb rating as a litigation attorney from AVVO, and is also respected by his colleagues in the legal profession, who have given him an AV rating under Martindale-Hubbell's Peer Review Rating System. Smith was also recognized as a 2012 Top Rated Lawyer by The American Lawyer magazine and Martindale-Hubbell.
Top-Rated Criminal Defense Lawyer in Ellicott City and Columbia, MD
We aggressively protect the constitutional rights of anyone facing criminal charges in Maryland. Contact us by e-mail or call us at 410-740-0101 to schedule an appointment. We represent criminal defendants in Howard County, Anne Arundel County, Baltimore County, Carroll County, Frederick County, Prince George's County and Montgomery County in Maryland.