Law Enforcement Officials Say Crimes Were Described in 2016 Video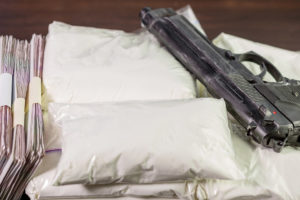 Citing a YouTube video made in 2016, federal agents arrested two local rappers and booked them on drug charges. YGG, whose real name is Davante Harrison, was arrested at his Cockeysville apartment on Monday, November 25, after agents found heroin and an unknown white powder in his rental car. The same day, Damont Brown was arrested in Owings Mills on a drug charge. Harrison and Brown made a video in 2016 called "Errday," which authorities say chronicles their illegal activity.
When arrested, Harrison also had nearly $10,000 in cash and a loaded .40 caliber Glock pistol. Officers found approximately 40 grams of heroin at Brown's apartment, as well as a sifter, mixing bowl, and digital scale. A third defendant was arrested in the Riverside neighborhood, allegedly in possession of almost 500 grams of heroin and other drugs.
Officials contend that Harrison and Brown are associated with the "Trained to Go" crew they allege has been running the heroin and cocaine trade in Baltimore's Westside for years. They say Harrison offered a bounty of $20,000 to anyone willing to kill a police informant working against the Trained to Go crew. The informant was slain on city streets a year ago.
Proven Maryland Criminal Defense Attorney
For over 30 years, attorney Jonathan Scott Smith has fought for the rights of people charged with criminal acts in the greater Baltimore area and throughout Maryland. He has a thorough understanding of criminal law and procedure. He'll painstakingly investigate your case, gather and preserve all relevant evidence, and confirm that law enforcement officers did not violate your constitutional rights.
Attorney Smith has been selected as a Maryland Super Lawyer, and was named a Top-Rated Lawyer by The American Lawyer magazine in 2012. He is AV-rated (the highest rating possible) by his colleagues in the legal profession under Martindale-Hubbell's Peer Review Rating System. He has a 10.0 (Superb) rating as a litigation attorney from AVVO and also has received AVVO's Client's Choice Award, with an average client review of 5 stars.
Effective Criminal Defense Lawyer in the Baltimore Metro Area
At the law offices of Jonathan Scott Smith, we fight for the rights of criminal defendants. Contact our office online or call 410-740-0101 to arrange a meeting. We handle cases throughout Howard County, Baltimore County, Carroll County, Frederick County, Prince George's County, and Montgomery County in Maryland.