Does Maryland Make a Legal Distinction between Driving While Impaired (DWI) and Driving Under the Influence (DUI)?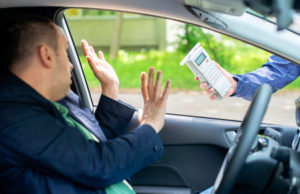 When you're pulled over by police in Maryland, there's a good chance they'll ask you if you've had anything to drink. They also may ask you to submit to a field sobriety test or take a breathalyzer test to estimate your blood alcohol content (BAC). You can refuse the field sobriety test with no legal penalty, but if you refuse the breathalyzer, there are potential consequences, including loss of driving privileges.
Based on the findings of the breathalyzer test and observations of the police officer, three things might happen:
You blow under the legal limit of .08% BAC, and the officer concludes you are not impaired and lets you go;
You blow over the legal limit of .08% BAC, causing you to be arrested for driving under the influence of alcohol (DUI); or
You blow under .08% but over .07% and are charged with driving while impaired.
If you are underaged, the legal limit goes down to .02%. Commercial truck drivers also have a lower permissible blood alcohol content—.04%.
Experienced Maryland DUI/DWI Defense Attorney
Jonathan Scott Smith, a longtime Maryland SuperLawyer, has aggressively protected the constitutional rights of criminal defendants in the greater Baltimore area and across Maryland for more than 30 years. Consistently AV-rated by other attorneys under Martindale-Hubbell's Peer Review Rating System, Jonathan has also been named a Top-Rated Lawyer by The American Lawyer magazine. He's earned AVVO's Client's Choice Award, with the highest rating possible (5 stars), as well as a 10.0 (Superb) rating from AVVO as a trial attorney.
Jonathan understands the consequences of a DUI/DWI conviction, and works hard to ensure that police followed all required procedures. He will verify that there was probable cause for the traffic stop and that you were properly notified of your Miranda rights if taken into custody. He will carefully gather all relevant evidence and visit the scene of the incident, if necessary. He'll also use his extensive trial experience to protect your rights in court.
Proven DWI/DUI Attorney in Baltimore County and the Surrounding Communities
To schedule a confidential consultation to discuss your options after a DWI/DUI arrest, contact attorney Jonathan Scott Smith online or call 410-740-0101 to set up an appointment. Attorney Smith handles DWI and DUI cases throughout Baltimore and the surrounding area, including Howard County, Baltimore County, Carroll County, Frederick County, Prince George's County, and Montgomery County.