Grounds for license suspension and the penalties for driving on a suspended license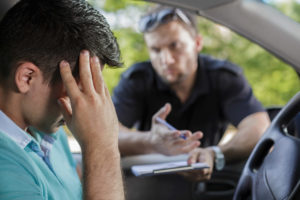 The Maryland Department of Motor Vehicle Administration (MVA) has the legal authority to temporarily suspend your driving privileges for a number of reasons:
Accumulation of 8 or more points on your driving record
Failure to pay a fine related to a traffic citation
Conviction for driving under the influence or while impaired
The penalties for operating a motor vehicle when your license has been suspended
Whether the suspension was appropriate or the result of a mistake, whether you intentionally drove with a suspended license or were unaware of the suspension, the state of Maryland can impose severe sanctions. You could face anywhere from two months to a year in jail, pay a $1,000 fine, or both. You also can expect points added to your driving record.
Experienced Baltimore County Traffic Court Defense Attorney
Attorney Jonathan Scott Smith has provided sound counsel to people facing traffic court challenges in Baltimore and across Maryland for more than 35 years. He's been listed as a Top-Rated Lawyer by The American Lawyer magazine and earned AVVO's prestigious Client's Choice Award, with an average of 5 stars(the highest rating possible) in all client reviews. Attorney Smith also has earned a perfect 10.0 (Superb) rating as a litigator from AVVO. Long named a Maryland SuperLawyer, he'salso AV-rated by other lawyers under Martindale-Hubbell's Peer Review System.
Attorney Smith takes an aggressive approach to criminal defense, looking at the actions of law enforcement officers throughout the process. He'll confirm whether there was probable cause to pull you over and whether you were properly notified of your constitutional rights. He'll conduct a thorough investigation, talking to witnesses, reviewing police reports, and traveling to the scene of the traffic stop, if appropriate.
Proven Maryland Criminal Defense Lawyer
Contact experienced Maryland criminal defense attorney Jonathan Scott Smith by email or call 410-740-0101 to set up an appointment. We handle drug possession prosecutions in Howard County, Baltimore County, Carroll County, Frederick County, Prince George's County, and Montgomery County in Maryland.