What Happens If You Refuse?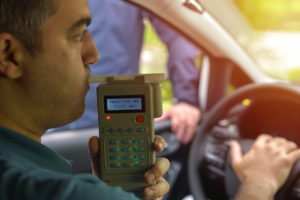 Customarily, when you're been pulled over in Maryland on suspicion of drinking and driving, the police officer will ask you to take a "field sobriety test" where you have to walk heel-to-toe or stand on one leg. Contrary to popular belief, though, there is no legal requirement that you submit to these tests, and the officer cannot compel you to do so.
Furthermore, there's no criminal penalty for refusing to take a field sobriety test, and choosing not to participate in such a test will not have any impact on your driving privileges. Field sobriety tests are voluntary and can always be refused. Field sobriety tests are notoriously unreliable; the National Highway Traffic Safety Administration has published training manuals stating that one of every three tests may be wrong.
Police officers may also ask you to submit to a preliminary breath test before detaining you. This test is also voluntary. If you are taken to the police station, though, Maryland's implied consent rules go into effect. If you refuse a breath or blood test at the police station, you can lose your driving privileges.
Proven Maryland Drunk Driving Defense Lawyer
Attorney Jonathan Scott Smith, a longtime Maryland SuperLawyer, has fought for the rights of criminal defendants throughout Maryland for more than three decades.He has consistently been AV-rated by other attorneys under Martindale-Hubbell's Peer Review Rating System and was named a Top-Rated Lawyer by The American Lawyer magazine. AVVO has given him the Client's Choice Award, with the highest rating possible (5 stars), as well as a 10.0 (Superb) rating as a trial attorney.
Attorney Smith understands the impact of a conviction for drinking and driving and will work hard to protect your constitutional rights. He will carefully gather and preserve evidence in support of your acquittal. He'll review police reports and question witnesses to ensure that law enforcement officers had probable cause to make the traffic stop and that they properly advised you of your rights.
Results-Oriented DWI/DUI Attorney in the Baltimore Metropolitan Area
To schedule a confidential consultation to discuss your options after a DWI/DUI arrest, contact attorney Jonathan Scott Smith online or call 410-740-0101 to set up an appointment. Attorney Smith handles DWI and DUI cases throughout Baltimore and the surrounding area, including Howard County, Baltimore County, Carroll County, Frederick County, Prince George's County, and Montgomery County.