Maryland Drug Laws | Categories and Penalties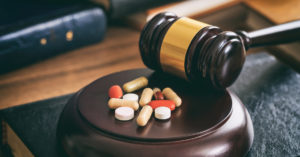 In Maryland, as in every state, there are statutes (written laws) that identify what types of substances can be legally possessed, manufactured, distributed, or sold. Maryland takes a more detailed approach to illegal drugs, though, defining them as controlled dangerous substances (CDS) and putting them in five different categories, based on their likelihood to cause addiction/abuse, as well as their acknowledged medical value.
Schedule I Drugs
Drugs deemed to be highly addictive or subject to abuse, and without recognized medical value, are listed in Schedule I. Schedule I drugs include heroin, LSD, ecstasy, and peyote. Conviction of a Schedule I drug offense is punishable by up to 40 years in prison, as well as $100,000 in fines. Marijuana, while technically considered a Schedule I drug, is treated differently, with less serious penalties.
Schedules II-V
The remaining schedules cover all other drugs, from cocaine, opium, meth, and opioids to steroids, sedatives, and even over-the-counter cough suppressants.
Experienced Baltimore County Drug Crimes Attorney
Jonathan Scott Smith, long a Maryland SuperLawyer, has fought to protect the constitutional rights of criminal defendants in the greater Baltimore area and across Maryland for more than three decades. AV-rated by his colleagues in the legal profession under Martindale-Hubbell's Peer Review Rating System, attorney Smith has also been named a Top-Rated Lawyer by The American Lawyer magazine. He's received AVVO's Client's Choice Award, with the highest rating possible (5 stars), as well as a 10.0 (Superb) rating from AVVO as a trial attorney.
Jonathan knows the impact a drug crimes conviction can have on your life, affecting your reputation and job. He'll confirm that police followed all required procedures and that all evidence against you was obtained legally. He will verify that there was probable cause for any search, seizure, or arrest, and that you were properly notified of your Miranda rights if taken into custody. He'll also use his extensive trial experience to protect your rights in court.
Effective Drug Crimes Defense Attorney in Maryland
To schedule a confidential consultation to discuss your options when you are under suspicion or arrested for a drug crime, contact attorney Jonathan Scott Smith online or call 410-740-0101 to set up an appointment. Attorney Smith handles DWI and DUI cases throughout Baltimore and the surrounding area, including Howard County, Baltimore County, Carroll County, Frederick County, Prince George's County, and Montgomery County.