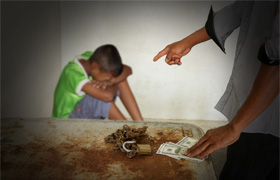 A 45-year-old Columbia man was arrested last Thursday by Maryland State Police, charged with multiple counts of owning, possessing and distributing child pornography. A resident in the 5600 block of Steven Forest Road, was detained by officers from the Computer Crimes Unit after they conducted a search of his home, pursuant to a warrant. Officials say they received information recently that led them to initiate an investigation. During the course of that investigation, they identified the resident as being involved in the dissemination of child pornography.
A spokesperson for the Maryland State Police said the investigation began in late February when they received an internet-based tip. During the search last Thursday, conducted jointly by the state police and by Homeland Security agents, officers found evidence of child pornography on his cell phone.
Jonathan Scott Smith, a Maryland Super Lawyer, has more than 30 years of experience successfully protecting the rights of criminal defendants. He has been a multiple recipient of the Client's Choice Award from AVVO, based on an average client review of 5 stars (the highest rating possible). Smith has a perfect 10.0 Superb rating as a litigation attorney from AVVO, and is also respected by his colleagues in the legal profession, who have given him the top rating available under Martindale-Hubbell's Peer Review Rating System. Smith was also recognized as a 2012 Top Rated Lawyer by The American Lawyer Magazine and Martindale-Hubbell.
Top-Rated Criminal Defense Lawyer in the Greater Baltimore Area
We aggressively represent people who have been charged with a criminal act. Contact us by e-mail or call us at 410-740-0101 to schedule an appointment. We represent criminal defendants in Howard County, Baltimore County, Carroll County, Frederick County, Prince Georges County and Montgomery County in Maryland.