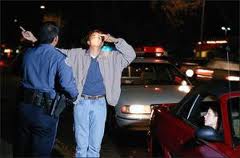 A drunk driving arrest creates substantial risks involving loss of your driver's license, and perhaps even your freedom. It is critical to select and hire an experienced Maryland drunk driving lawyer to advise you and to represent you aggressively.
Choosing a DUI Lawyer – Howard County, Columbia, Ellicott City, Maryland
Many people who are charged with drunk driving receive a pile of solicitation letters in the mail from attorneys they have never met. There are companies that review court filings on a daily basis and then sell lists of names to attorneys. These attorneys then mail form letters soliciting their services. These solicitation letters often include absurdly low legal fees, and mislead the public regarding the true cost of experienced and qualified lawyers.
Top Rated Attorney
Mr. Smith's extensive trial experience — and track record of successful results in DUI/DWI and drunk driving charges, and other criminal cases— has earned him the recognition of his peers, with an AV® Preeminent™* Peer Review Rating in the Martindale-Hubbell peer review rating process, and a 10.0 Superb AVVO rating. These are the highest ratings possible for legal skill, ethical practice, lawyer's years in practice, disciplinary history, professional achievements and industry recognition. Attorney Smith is considered to be one of the best criminal lawyers in Howard County.
Points of Distinction
Over 30 Years of Courtroom Experience
Former Prosecutor
Author of Criminal Law Books for Lawyers
Lectured and Trained Prosecutors
Highest Rating for Legal Ability and Professional Ethics
Former Criminal Prosecutor
Jonathan Scott Smith was employed as a prosecutor (Assistant State's Attorney for Baltimore County) from 1980 to 1984. He prepared and prosecuted thousands of felony and misdemeanor criminal cases. This included an extensive number of jury and non-jury trials in Maryland district courts and circuit courts.
As a prosecutor in the circuit court, Mr. Smith prepared and tried a wide range of criminal cases. He was responsible for handling all aspects of criminal cases. Mr. Smith personally handled an extensive number of criminal jury trials. The charges included murder (including death penalty), rapes and other sexual offenses, armed robberies, burglaries, kidnappings, extortion, embezzlement, thefts, assaults, and drug offenses. He tried numerous non-jury trials as well. Mr. Smith prosecuted cases involving mandatory sentences and death penalty proceedings, and handled felony charge screenings; grand jury proceedings; and preliminary hearings.
As a prosecutor in the district court, Mr. Smith handled all aspects of thousands of cases until their conclusion, including an extensive number of non-jury trials. The cases included drunk driving and other serious traffic cases, thefts, assaults, drug possession, handgun charges, violation of probation hearings, and bail hearings.
Read More Choosing a DUI Lawyer
Attorney Jonathan Scott Smith represents clients in criminal defense matters, DUI / DWI, MVA Hearings, traffic offenses, domestic violence and child abuse charges throughout Maryland, including the cities of Columbia, Clarksville, Sykesville, Fulton, Elkridge, Frederick, Mt. Airy, Ellicott City, Laurel, Westminster, and Baltimore. Lawyer Smith also provides experienced legal representation for clients in Baltimore County, Anne Arundel County, Carroll County, Prince Georges (Prince George) County, Howard County and Montgomery County, MD.