State's Attorney Seeks to Have Convictions Dismissed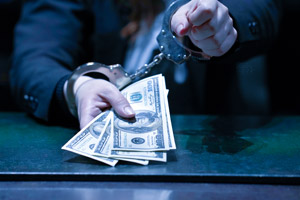 Baltimore State's Attorney Marilyn Mosby says that almost 800 criminal cases, involving both convictions and plea bargains, should be thrown out because of corruption by police officers. Those cases were linked to 25 police officers who were part of the Gun Trace Task Force, a now-defunct entity. Initially, six officers pled guilty to corruption charges and two were convicted of similar charges. In the course of those trials, another 17 officers were implicated in the wrongdoing. The State's Attorney office has reviewed more than 2,500 criminal prosecutions to date and found those officers to have "material" connections to 790 cases.
State officials began reviewing the cases more than two years ago and had previously requested that a number of convictions be vacated. Those requests were rejected, as existing law did not allow the State's Attorney General the legal authority to vacate those cases. A new law was passed, which went into effect at the beginning of October, 2019, conferring that authority.
AV-Rated Columbia, MD Criminal Defense Lawyer
Proven trial attorney Jonathan Scott Smith offers more than three decades of experience to criminal defendants across the greater Baltimore area and throughout the State of Maryland. Smith has been AV-rated (the highest rating possible) by his colleagues in the legal profession under Martindale-Hubbell's Peer Review Rating System every year since 1988 and also has received Martindale-Hubbell's Client Distinction Award, given to less than 4% of all attorneys in Martindale-Hubbell's directory. He's been named one of the top 100 lawyers in Maryland by Super Lawyers and tabbed as a Top-Rated Lawyer by The American Lawyer magazine in 2012.
Attorney Smith has the experience, skill, knowledge and resources to protect your rights in any criminal matter. He'll carefully gather, assess and preserve all evidence in your case and ensure that police and prosecutors followed the rules. He'll aggressively protect your constitutional rights throughout the criminal process, from investigation and arrest to arraignment and trial. He'll meet with and question all prospective witnesses, so that he can prepare and present the most convincing arguments in your defense.
The National Trial Lawyers Association, a "by invitation only" professional organization, has included him as one of the top 100 attorneys in Maryland. Smith also has a 10.0 (Superb) rating as a litigation attorney from AVVO and, with an average client review of 5 stars, has received AVVO's Client's Choice Award. He is a member of the Million Dollar Advocates Forum, given to less than 1% of all American lawyers who have obtained million-dollar judgments, awards or settlements.
Carroll County, Maryland Criminal Defense Attorney
Contact our office by e-mail or call 410-740-0101 for an appointment. We represent criminal defendants in Carroll County, Frederick County, Howard County, Baltimore County, Prince George's County and Montgomery County in Maryland.