Understanding the Difference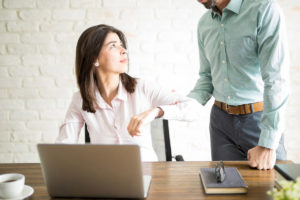 The terms "assault" and "battery" get used together so often that many people believe they are one and the same thing; however, there is a distinction. While battery requires an unwanted or nonconsensual physical contact or touching of one person by another, assault does not. A person may be guilty of assault under any of the following circumstances:
The person attempts to make unwanted physical contact;
The person actually makes unwanted physical contact; or
The person puts someone else in reasonable apprehension of imminent, unwanted physical contact.
It's important to understand that the contact need not result in physical injury—it must only be deemed unwanted, nonconsensual, or offensive to the victim. Also, the person alleged to have made the wrongful contact must have done so either intentionally or with a disregard for the risk of offensive contact (recklessness). Typically, contact, or the fear of contact, caused by carelessness or negligence does not constitute assault or battery.
Experienced Baltimore Assault and Battery Defense Lawyer
Jonathan Scott Smith, a longtime Maryland SuperLawyer, has successfully protected the rights of criminal defendants in the greater Baltimore metropolitan area and across Maryland for more than three decades, including individuals facing assault and/or battery charges. AV-rated under Martindale-Hubbell's Peer Review Rating System, attorney Smith has also been named a Top-Rated Lawyer by The American Lawyer magazine. He's earned AVVO's Client's Choice Award, with the highest rating possible (5 stars), as well as a 10.0 Superb rating from AVVO as a trial lawyer.
Attorney Smith knows the potential impact of a criminal conviction and will work hard to protect your constitutional rights. He'll verify that there was probable cause for any search and seizure and make sure you were properly notified of all your legal rights if taken into custody.
Effective Assault and Battery Defense Attorney in Prince George's County
To schedule a confidential consultation to discuss your options if you've been arrested and charged with assault or battery, contact attorney Jonathan Scott Smith online or call 410-740-0101 to set up an appointment. Attorney Smith handles criminal matters throughout Baltimore and the surrounding area, including Howard County, Baltimore County, Carroll County, Frederick County, Prince George's County and Montgomery County.